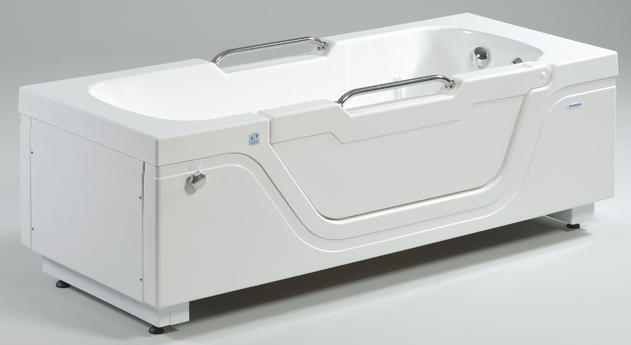 Full size high / low bath with large door.
Thanks to the unique very large door opening, this adjustable bath offers low, safe access. Even clients who are still mobile can take their place in this bath independently. Without the help of a patient lifter !
The access to the walk-in bath is completely smooth and comfortable. The entrance is electrically adjustable in height from only 27 cm to a height of 67 cm.
The door has a unique inflatable profile and is 100% watertight. Furthermore, this bath is available with bath shortener and shower stretcher, so that it can be used for a broad target group, just like the other baths.
This hi/lo bath has the following characteristics:
full size bath L 202 cm: long tub with flat bottom
very large entrance door
electrically adjustable from only 270 mm to 670 mm height
comfortable anti-slip bottom
large sturdy handles
no sharp or protruding parts or edges
can be provided with a bath shortener to prevent slipping
can empty in a short time
very stable construction, also in the highest position
despite compact dimensions, compact dimensions
operation by switches on both long sides (handcontrol operation is optionally available)
8 year* warranty on frame and tub
Dimensions: